We have been successfully providing services related to the design and construction of drinking water tanks for many years. We make our installations throughout Poland and abroad. We also offer a professional and well-organized service of drinking water tanks – both from our distribution and made by other manufacturers.
Potable water tanks
Requirements and standards
Our many years of experience in the industry have allowed us to design and introduce a wide range of drinking water tanks to the offer. Our tanks meet all, even the most complex requirements set by customers, but also guarantee compliance with stringent legal standards set for each drinking water tank. Each of our tanks intended for drinking water is approved for use by PN-EN and has a current certificate of the National Institute of Public Health issued for the entire structure of the tank along with its devices.
The structure of the above ground drinking water tank consists of steel panels with dimensions of 2.5mx 1.25m, joined together by means of hot-dip galvanized screws, made of acid-resistant steel or covered with specialist powder paint in the color chosen by the customer from the RAL palette we offer .
Drinking water tanks
Construction
The tightness of the water tank is ensured by an individually prefabricated EPDM membrane or specially designed panels for this purpose, painted on the inside with epoxy paint with a chemical seal, polymer mass having permission to contact drinking water. Depending on the type of sealing chosen by the customer, in Miltom workshops we make internal insulation from XPS panels on the entire surface of the tank walls and an outer layer of high-quality mineral wool, additionally protected by us with a trapezoidal sheet facade in any color from the RAL palette. We adapt the technical equipment of each drinking water tank we offer to the individual and specific needs of the Ordering Party, but at the same time ensuring that all formal requirements strictly specified by law are met, adapting the tank to be used for its intended purpose.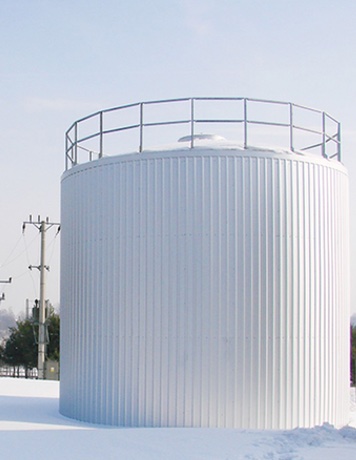 The roofs of clean water tanks we use are, by design, a self-supporting structure made according to the concept based on trapezoidal panels or laminated prefabricated elements. Therefore, they are characterized by high resistance to UV rays and harsh weather conditions for a long period of planned operation.
The surface sealing of roof mats used in our projects excludes the possibility of dirt, insects and rainwater entering the tank. Potable water tanks supplied by Miltom have the necessary hygienic certificates of PZH and are used in food processing, gardening, agriculture as well as in drinking water treatment plants. The roof structure can be made in several variants we offer. This provides the customer with the opportunity to select an individual solution optimally suited to the needs.
Variants of the roof of the drinking water tank
laminated prefabs
original Miltom cone type construction
T35 trapezoidal sheet
The tanks we offer and produce for storing water intended for consumption, have a current PZH certificate and therefore can be used in food processing, water treatment plants, water supply networks, agriculture and all types of industrial and manufacturing plants where safe and clean is essential living water for people and animals.
Durability
Galvanized steel protected with polyester or epoxy powder paint
Resistance
AISI 304 (1.4304) stainless steel or AISI 316L (1.4401)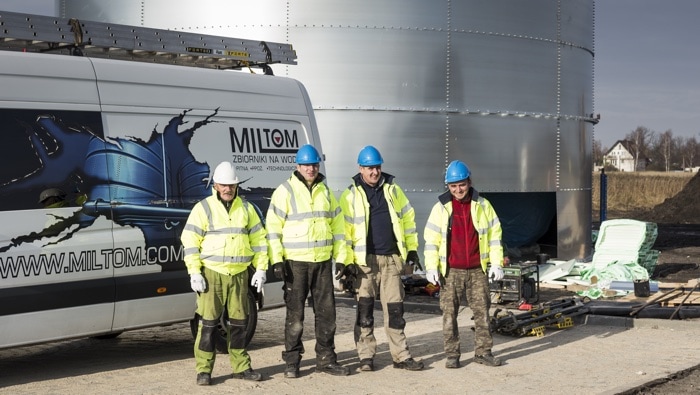 We offer:
inspections of fire tanks
technical inspections
cleaning the inside of the tank
replacement of insulation, membranes, tank roofs
repairs of heating and water level monitoring systems
expansion (tank enlargement)
location changes
Our specialists will answer all your questions, because fire tanks are our specialty. Do you want to know the details of our offer or would like to know the scope of repair or service work we carry out?

Warranty protection
Miltom guarantee
Each existing steel fire protection tank or fire protection installation - both built by us and other manufacturers - we can cover our warranty and service care. We accomplish this by providing customers with the opportunity to purchase the warranty protection package we offer . The basis for issuing such a guarantee to you is before we sign the contract, technical inspection of the tank or device.
Warranty for installations made
Each product offered to you is covered by a guarantee. Extensive warranty packages are a confirmation of our care for the correct performance and functioning of our implementations, but also our policy aimed at providing our customers with a high level of comfort and safety, associated with trust in the quality of our devices and services. We can guarantee their reliability for many years.
Miltom Sp. z o.o.
We're second to none in water tanks construction. Our company is made up of a team of people who have been operating on the market for 25 years. Our mission is to be an active and constructive advisor, committed to the long-term success of our clients.
Adress
02-830 Warsaw, Mazura street 18A
+48 22 844-59-39,
+48 22 854-01-08
National Business Registry No: 141661666
Tax Identification No: 5213625525
NCR: 0000317566
firm@miltom.com.pl