To meet the needs of our clients, we offer a series of sets of automatic fire-fighting pumping stations of various capacities. The parameters of the devices are selected on the basis of the requirements received from the customer, ensuring a close match to the design needs of each set we design.
Fire-fighting pumping stations
Projects
Miltom specializes in the design, assembly and service of water pumping stations for fire-fighting purposes, including for supplying sprinkler, sprinkler, foam and hydrant installations. Our pumping stations are designed taking into account the generally applicable law, design standards, requirements of equipment manufacturers and insurers as well as optional customer expectations.
When designing fire pumps, it is extremely important to choose the right elements that will meet the requirements set for the set. For basic equipment of fire-fighting pumping stations installed by us belong:
Pumps
Main
reserve
maintaining a constant pressure jockey
Internal steel wires
suction
pressure
test
feeding
cooling system
Armature
shut-off
regulatory
measurement
Components
lighting
heating
gravitational and mechanical ventilation
Power supply and control cabinet
to which external electric power is connected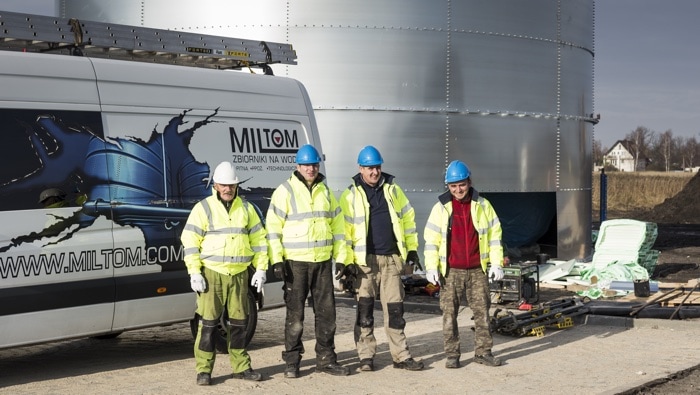 We are the recommended service for SPP Pumps. We specialize in:
assembly,
operate
first launches,
servicing
general repairs of SPP pumps.
We carry out repairs both on site - at the customer's and in our company workshop. We use original parts.
Our specialists will answer all your questions. Do you want to know the details of our offer, would you like to know the scope of our repair or service work?
PN-EN 12845 Fixed fire-fighting equipment – Automatic sprinkler systems – Design, installation and maintenance.
VdS-CEA 4001 Sprinkleranlagen. Planung und Einbau.
NFPA 20
FM Data Sheets 3-2 Water Tanks For Fire Protection
CNBOP-PIB
National Certificate of Constancy of Performance No. 063-UWB-0107
National Certificate of Constancy of Performance No. 063-UWB-0108
UL certificate
FM Approvals
Approval Standard for Steel Tanks for Fire Protection
NFPA 20
Standard for Water Tanks for Private Fire Protection

VdS-CEA
Sprinkleranlagen. Planung und Einbau

CNBOP-PIB
We have a positive opinion of CNBOP
Warranty protection
Miltom guarantee
Pump sets purchased in our company are covered by the manufacturer's warranty and the care of Miltom service operating throughout the country. In order to maintain the warranty, it is important to carry out inspections recommended by the manufacturer. It is possible to extend the standard warranty for a period of up to 5 years, ask your representative for details.
Package Sets
Individual configuration kit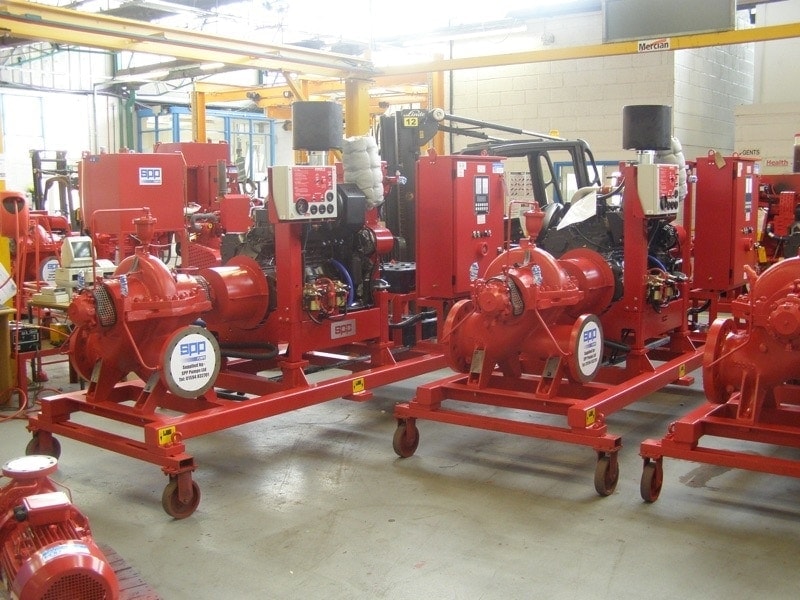 pusta
Configuration
Single or multiple pump package sets, horizontal end suction close and long coupled, split case long coupled, multi-stage multi-outlet and vertical turbine all electric motor or engine driven
Discharge & Performance
End Suction (Single Stage) – 32 mm to 150 mm. Outputs up to 500 m3 /h Heads up to 15.2 bar
Outputs up to 230 l/s Heads up to 60 bar
Split Case – 80 mm to 300 mm. Heads up to 44.5 bar (Approved fire set)
Multi-stage multi-outlet – 100 mm to 125 mm. Outputs up to 315 l/s. Heads up to 60 bar
Vertical Turbine – 200 mm to 508 mm Outputs up to 9000 m3 /h
Multi-stage / multi-outlet – 50 mm to 250 mm. Outputs up to 850 m3 /h. Heads up to 850 m. Up to 140 o C
Features
Meeting the requirements of worldwide insurance and approvals bodies
End Suction – Centreline discharge back pull-out rotating element can be removed without disturbing pipe work
End Suction – Close coupled, space and cost saving solution
Axially split case rotating element can be removed without disturbing pipework
Rigid, box-section baseplates for end suction and split case long coupled packages
Stainless steel shaft with tight tolerances designed to transmit the maximum load across full pump curve
Bearing arrangements of ample proportion • IE2 motors fitted as standard
Impellers machined and hand finished to meet customer duty
Prepackaged Pump Houses
Individual configuration kits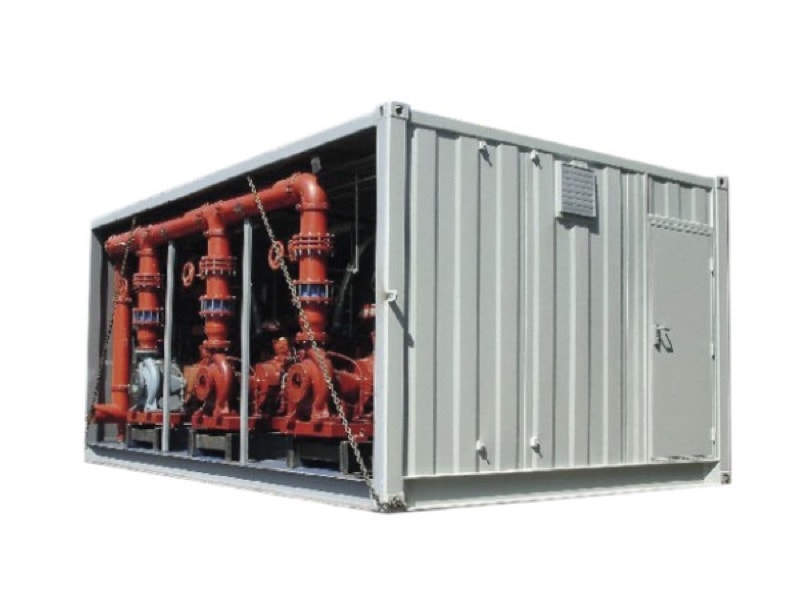 The container pumping station, thanks to its compact dimensions, can be delivered and used wherever there is a need. In order to embed and prepare for work, you only need to design and prepare the foundation and make water and electrical connections.
pusta
Configuration
Design and supply of enclosure and installation inside of main fire pump sets, jockey pump, controllers, starters, all internal pipe work, test line, flow meter, wiring and lighting to provide a fully packaged unit.
Discharge & Performance
End Suction (Single Stage) – 32 mm to 150 mm
Outputs up to 500 m3 /h. Heads up to 15.2 bar
End Suction (multi-stage) – 100 mm to 125 mm
Outputs up to 830 m3 /h. Heads up to 60 bar
Split Case – 80 mm to 300 mm • Outputs up to 9000 m3 /h. Heads up to 44.5 bar
Vertical Turbine – 200 mm to 508 mm
Outputs up to 315 l/s. Heads up to 31.1 bar
Features
Delivered complete, ready for immediate installation on simple foundations
Ease of site installation and connection
Single responsibility for complete pump house
Fully tested and pre-commissioned using advanced computerised testing facilities
Individually engineered to customer requirements
Containerised CAD design
Wall insulation reduces
Adress
Mazura Street 18A, 02-830 Warsaw
+48 22 844-59-39,
+48 22 854-01-08
NBR No: 141661666
Tax Identification No: 5213625525
NCR: 0000317566
firm@miltom.com.pl
Fire Pump Specialist
Michał Stępniak
Tel. +48 22 844-59-39
Mob. +48 693 805 807
michal.stepniak@miltom.com.pl