Pump sets are a key element of a fire protection system, and their reliability depends on the operation of the entire installation. That is why it is so important to review periodic inspections to verify the status of devices and applications
Warranty reviews
In order to maintain the warranty, it is necessary to perform periodic inspections of the device in accordance with the maintenance schedule developed by the manufacturer. We provide warranty care for pump sets purchased in our company.
Post-warranty inspections
We carry out reviews of pump sets of all manufacturers based on the guidelines of fire protection standards, maintaining the standards used in the design, taking into account the technical start-up documentation and operating instructions developed and drawn up by the manufacturer.
Periodic inspections
Requirements in fire regulations impose periodic reviews on the facility manager. The frequency and scope of control activities depends on the standard and the recommendations of the manufacturer himself and the developed and implemented plan of procedures for maintenance of the device on site.
Inspections of pumps and pumping stations
Periodic inspections are necessary to verify the technical condition of the device and detect faults in time. Early diagnosis of potential equipment failure can bring significant savings in repair costs and reduce unplanned downtime. According to § 3 para. 2 and 3 of the Regulation of the Minister of Interior and Administration of 7 June 2010 on the fire protection of buildings, other building structures and areas (Journal of Laws No. 109, item 719), fire-fighting devices and fire extinguishers should be subjected to technical inspections and maintenance in accordance with the principles set out in Polish Standards for fire-fighting devices and fire extinguishers, in the relevant technical documentation and operating instructions. These inspections should be carried out in periods and in a manner consistent with the instructions established by the manufacturer, but at least once a year.
We carry out reviews of diesel and electric pump sets, taking into account the manufacturer's scheduled maintenance schedule, which provides for the replacement of materials and consumable parts every year and every two years, such as filters, V-belts, rubber hoses. The use of appropriate parts and routine inspections are key when it comes to trouble-free operation of the kit and allows the manufacturer's warranty to be maintained.
As the device ages, the likelihood of a malfunction increases. Regular inspections are important in sets not covered by the manufacturer's warranty. This allows you to quickly detect potential faults and eliminate them at an early stage. Thanks to this, we ensure constant and uninterrupted operation of the device, and thus ensure fire safety for the entire building. The inspections are carried out by an experienced service provider throughout the country and abroad.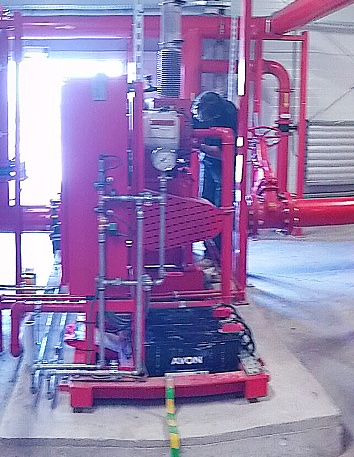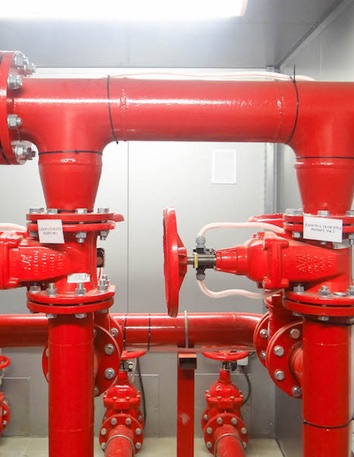 For periodic inspections of pump sets and fire pump obliges. Act of 24 August 1991 on fire protection (Journal of Laws of 1991 No. 81 item 351) and Regulation of the Minister of the Interior and Administration on fire protection of buildings, other building structures and areas.
Monitoring of devices installed in the fire pumping station allows you to detect any irregularities in the pumping station and remove them before major accidents occur. We carry out inspections of pumps and pumping stations in sprinkler, sprinkler, hydrant installations based on the Polish design standard PN-EN 12845. The offer includes the review of devices such as fixed fire extinguishing devices, tapping pump, alarm control valves, etc. We carry out the review in accordance with the instructions provided from manufacturer and applicable regulations. Inspections are carried out by qualified teams throughout the country.
Our specialists will answer all your questions. Do you want to know the details of our offer, would you like to know the scope of our repair or service work?
Warranty protection
Miltom guarantee
Each existing steel fire protection tank or fire protection installation – both built by us and other manufacturers – we can cover our warranty and service care. We accomplish this by providing customers with the opportunity to purchase the warranty protection package we offer . The basis for issuing such a guarantee to you is before we sign the contract, technical inspection of the tank or device.
Warranty for installations made
Each product offered to you is covered by a guarantee. Extensive warranty packages are a confirmation of our care for the correct performance and functioning of our implementations, but also our policy aimed at providing our customers with a high level of comfort and safety, associated with trust in the quality of our devices and services. We can guarantee their reliability for many years.
Miltom Sp. z o.o.
We're second to none in water tanks construction. Our company is made up of a team of people who have been operating on the market for 25 years. Our mission is to be an active and constructive advisor, committed to the long-term success of our clients.
Adress
02-830 Warsaw, Mazura street 18A
+48 22 844-59-39,
+48 22 854-01-08
National Business Registry No: 141661666
Tax Identification No: 5213625525
NCR: 0000317566
firm@miltom.com.pl