Hot water tanks
Hot water tanks are a great solution for the energy industry. As one of the few companies in Poland, we manufacture ground steel bolted heat accumulators that store thermal energy in the form of hot water.
Hot water tanks
Application
Miltom supplies hot water storage tanks that serve as accumulators / heat buffers. These tanks are used mainly in horticulture and heating, where it is necessary from a technical and economic point of view.
The effect of using hot water tanks is lower operating costs resulting from high efficiency of the heat source. The hot water tank is an essential element of a modern heating network in greenhouses and fruit farming. Its operation increases the efficiency of heating network operation by reducing transport delay time and heat losses in the distribution process. In our tanks we can store water with a maximum temperature of up to 85 degrees C.
Hot water tanks
Construction
Thanks to a properly selected insulating layer of the foundation, roof and tank shell, the battery protects against energy loss by accumulating heat when the demand for it is lower, and giving back when its consumption increases.
The thickness of the insulation layer depends on customer requirements and tank parameters. The EPDM membrane is responsible for the tightness of our tanks, which is prefabricated by the manufacturer and dedicated to a specific size tank. The use of a membrane means that the walls do not have direct contact with water, which has a significant impact on the longer life of the tank, as a result they become an important economic factor.
During the performance of the contract, Miltom provides the tank executive design for the building permit as well as the executive and as-built documentation of the tank developed by an authorized designer.
Saving
reduction of energy and service costs
Ecology
reduction of harmful emissions
Economy
low consumption of fuel burned in boilers
Subsidies
the possibility of subsidies from the European Union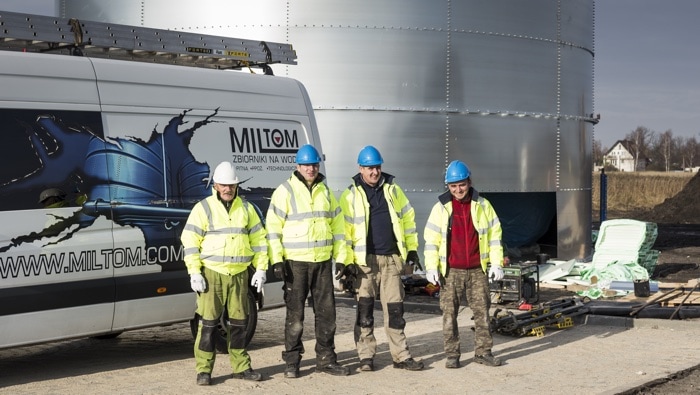 We offer:
inspections of fire tanks
technical inspections
cleaning the inside of the tank
replacement of insulation, membranes, tank roofs
repairs of heating and water level monitoring systems
expansion (tank enlargement)
location changes
Our specialists will answer all your questions. Do you want to know the details of our offer, would you like to know the scope of our repair or service work?
Warranty protection
Miltom guarantee
Each existing steel fire protection tank or fire protection installation – both built by us and other manufacturers – we can cover our warranty and service care. We accomplish this by providing customers with the opportunity to purchase the warranty protection package we offer . The basis for issuing such a guarantee to you is before we sign the contract, technical inspection of the tank or device.
Warranty for installations made
Each product offered to you is covered by a guarantee. Extensive warranty packages are a confirmation of our care for the correct performance and functioning of our implementations, but also our policy aimed at providing our customers with a high level of comfort and safety, associated with trust in the quality of our devices and services. We can guarantee their reliability for many years.
Miltom Sp. z o.o.
We're second to none in water tanks construction. Our company is made up of a team of people who have been operating on the market for 25 years. Our mission is to be an active and constructive advisor, committed to the long-term success of our clients.
Adress
02-830 Warsaw, Mazura street 18A
+48 22 844-59-39,
+48 22 854-01-08
National Business Registry No: 141661666
Tax Identification No: 5213625525
NCR: 0000317566
firm@miltom.com.pl